CSIA (#4923), CDET Certified - NJ Reg 13VH00984000
Chase Top & B-Vent Replacement
Franklin Park, NJ
Another Repair Job - Franklin Park, NJ
New Chase Top - Bayville, NJ
Chase Top & Rusted Vent Replacement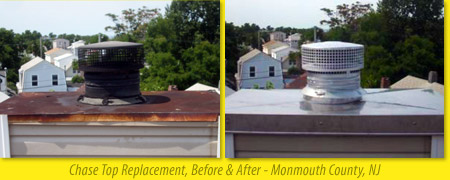 Certified Craftsmen has successfully replaced thousands of Chimney Chase Tops in NJ.
Even little leaks cause hazardous and expensive damage to pre-
fabricated and factory built fireplaces directly below them. The damage is irreparable and often requires complete replacement. A rusting chase top can cause thousands of dollars worth of damage.

Galvanized chase covers have a relatively short life span and will cause rust staining, mold, mildew, wood rot and fireplace deterioration.


There are installers that recommend aluminum chase covers. We prefer stainless steel because chimney piping is generally steel. If the steel chimney piping is in contact with the aluminum, electrolysis deterioration can occur because of the two dissimilar metals touching.

We also like to bring the stainless steel collar up high enough to cover the exterior fireplace piping to help prevent deterioration of the exterior air-circulating chimney. The stainless steel we recommend is heavy gauge with cross breaks for water shed, a proper skirt, new storm collar (if applicable) and stainless steel cap with proper ventilation.
B-Vents
B-vent piping has a tendency to rust (see image, right) where the exterior cap meets the piping. This causes caps to fall off the b-vent piping. The caps are generally aluminum and the exterior wall of the piping is galvanized steel. Two dissimilar metals cause oxidation (rusting) thereby deteriorating the piping. We seal the upper end of the piping, sand down and coat the piping with high- heat rust-inhibitive finishing material, attach an adaptor, new piping where necessary and an approved b-vent cap.