CSIA (#4923), CDET Certified - NJ Reg 13VH00984000
Steel Heatilator Removal - Flemington, NJ
After Removal: Fireplace Rebuilt - Flemington, NJ
New High-Efficiency Ahren Fireplace - Toms River, NJ
Fireplace Service, Repairs and Rebuilds
Certified Craftsmen, Inc. rebuilds fireplaces and chimneys from top to bottom. Most commonly we rebuild fireboxes because of rotted out heat-form type fireplaces and deteriorating masonry (brick) fireplaces. These rotted out fireboxes can pose significant operating hazards to the unknowing homeowner. Many times the rot will only be noticeable through an extensive inspection and that is precisely why it is very important to schedule an annual inspection with a company employing certified sweeps and technicians.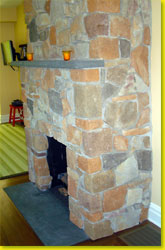 Many times during these rebuilds we redesign the firebox changing the dimensions and layout of the firebox walls to increase efficiency and increase the draft to aid in preventing smoking problems. During the rebuild we evaluate the existing construction to identify clearance issues, whenever possible.
Please view our
sample photos
of rebuilt fireboxes by Certified Craftsmen.
Click here for more information on fireplace and chimney cleaning.
Fireplace Re-facing
Make your old fireplace look new! We can re-face your fireplace with over 100 different stone types. Add a mantle and new stone or firebrick and you can turn an eyesore into a magnificent centerpiece for the room.