CSIA (#4923), CDET Certified - NJ Reg 13VH00984000
Rebuilt Chimney - Howell, NJ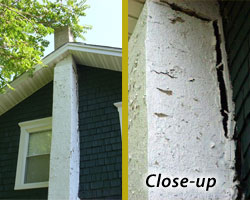 Fallen Chimney - Asbury Park, NJ
Class A Install - Bayville, NJ
Chimney Repairs and Rebuilds
Certified Craftsmen, Inc. rebuilds chimneys and fireplaces from top to bottom. Most commonly we rebuild chimneys due to moisture / freeze damage, chimney fires, damage due to deteriorating liners and disintegration of mortar joints. We also handle various repairs besides complete tear-downs, such as:
Tuckpointing
crown rebuilds and repairs
re-flashing
stucco
waterproofing
Our masons are careful to protect your landscaping, roofing or any other areas of concern during the repair process.
Using the proper materials and techniques will lead to a long life for your chimney. Twenty years of references backup our claims.

Please view our sample photos of rebuilt chimneys by Certified Craftsmen.