CSIA (#4923), CDET Certified - NJ Reg 13VH00984000
Summit Classic Wood Stove
Vista Pedestal Wood Stove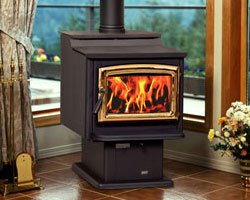 Super Step Top
Hi-Efficiency Wood Stoves & Inserts
Rebuilt Stone Fireplace & New Insert - Hightstown, NJ
Certified Craftsmen install highs efficiency woodstoves and inserts (Pacific Energy). We are meticulous with our installs, ensuring a proper installation per manufacturers specifications. This helps ensure safer operation while maintaining the high efficiency levels these stoves are meant to burn at.
We install a complete stainless steel liner form top to bottom for ease of cleaning, hazard reduction, and proper function of the stove. Please call for a site insection or chimney inspection for an insert. We will assess the requirements specific to your installation, and make proper recommendations. If you wish after the inspection, we will order and install you selected stove. Our high efficiency stoves and inserts have some or all of the qualities listed below depending on your selection of either "Efficiency (LHV)" or "80% +".
Crafted for maximum heating capacity, maximum burn time and maximum view of your wood fire, our high efficiency stoves answer the call for a highly effective wood stove operation.
FEATURES LISTED BELOW ON MOST OF THE STOVES
Reliable, durable, non-catalytic technology
Extended Burn Technology (EBT)
Rich Metallic Black finish with black trim (other colors available)
Straight-in fuel loading
Heavy plate-steel top
304 Stainless Steel baffle, insulation cover, rails and flame shield
Mobile home approved
Multi-port combustion air injection system
User friendly one-touch operation
Air wash system for super clean ceramic glass
Straight-in loading
Temperature actuated 160 cfm variable speed blower
Inside and outside combustion air capable CHOICES
Two door styles, Arched or Radiant, available in Gold, Nickel, Brushed Nickel or Metallic Black on most stoves
Metallic Black pedestal or legs in four finishes: Gold, Nickel, Brushed Nickel or Metallic Black on most stoves